You can't see the Chattanooga Area in a week !
Hello and welcome to the Chattanooga . click to See video Click to see Google map of Attractions
Located at the foot of Lookout M

ountain and just minutes from downtown Chattanooga a wonderful family vacation is right at your fingertips.
A short drive along the foot of the mountain takes you through historic Saint Elmo to the Incline Railway for a trip to the top of Lookout Mountain, where you can enjoy the views from Point Park or spend time at beautiful Rock City. Just a couple of miles further and you'll arrive in downtown Chattanooga, offering you multiple activities to enjoy. Kid's ages toddler through middle school age love playing at the Discovery Museum and of course you'll want to visit the adorable Penguins at the fresh water Aquarium or for the more daring souls, see the sharks swim at the salt water Aquarium.
Have lunch at one of the many restaurant selections offered from pizza at the Mellow Mushroom, burgers at Cheeseburger-Cheeseburger or seafood and steak available at the Big River Grill, Seafood Factory, Ruby Tuesdays, and many more. Or stroll across the Walnut Street bridge and enjoy a picnic at Coolidge Park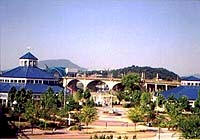 situated right along side the beautiful Tennessee River. The kiddies, both young and old, will enjoy a ride on the wonderful carousel found in the park. Then take a few minutes to browse in the many interesting shops located along the edge of the park. Don't forget to stop at Clumpies for ice-cream to take with you as you take in the sites along the River Walk, a 8 mile walking or bike path along the Tennessee River, offering restaurants and park areas all along the way.
After d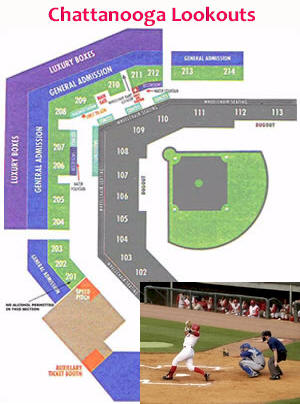 ark you might enjoy a movie at the historic Bijou Theatre or a few laughs at the Comedy Dinner Theater. Don't forget to take your sweetheart for a scenic ride in a horse drawn carriage or for dinner on the Southern Bell River Boat. Take in a professional baseball game. Convenient, safe, centrally located parking means you can park once and walk to any and all of these attractions.
 After this busy day, just a short drive and you've arrived back at your welcoming home away from home. With all the modern conveniences; cable, wireless internet, a fully operational kitchen, two baths, three bedrooms, a den with working fireplace and a pool right off your deck, you might just decide to spend the day, tomorrow right here.
Or perhaps take in the sites and excitement of the Ocoee River, an easy hour drive from the lodge. People come from all over t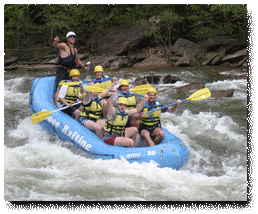 o raft the Ocoee, the site of the 1996 Centennial Olympics. And just minutes from here, you'll find Bryson, where you can take a ride on the Smokey Mountain Railway, a great day trip, especially in the fall when the leaves are turning.
What's a trip without a shopping day, and do we have the places; Warehouse Row and Hamilton Place Mall area. Shopping, dinning, movies theaters and more. One of the finest malls in the Southeast.
Just when you think there can't be more, think again. Let's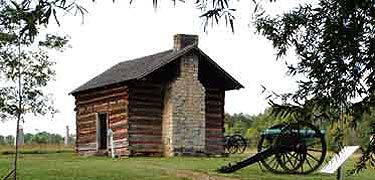 not forget the 5,200 acre Chickamauga Battlefield, scene of the last major Confederate victory of the Civil War. It contains numerous monuments, historical tablets, wayside exhibits, and trails. Major points of interest can be reached by following the seven-mile auto tour. Its also a great place for bicycle riding, because of the nice flat roads and trails. Visit Historic Downtown Chickamuaga and their quaint shops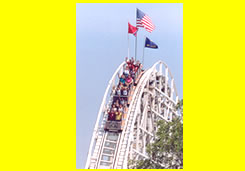 Spend the Day at Lake Winnepesaukah Family Amusement Park! It is truly an affordable park, set on a beautiful lake, lots of rides, free concerts, free parking and lots of eating.
Just a few minutes drive from the Lodge is Cloudland Canyon. Trails, views, picnicking, waterfalls; only seeing is believing. Just outside the park is probably one of the finest places to dine in the country, the Canyon Grill Restaurant. Once you have eaten there, you will go back.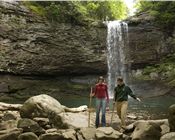 Looks What available within ten minutes of Mountain's Edge
The Tennessee River, Coolidge Park, Wet Lands Park, Pedestrian-only Bridge, Southern Belle Riverboat, Salt and Fresh-water Aquariums, I-Max Theatre, Hunter Art Museum, Bellsouth Baseball Stadium, River Pier and Eight-mile River walk, Bluff View Art District, Discovery Museum, Chattanooga Duck Ride, lots of restaurants, bars, coffee shops, shopping and festivals. Other close activities and well-known attractions are the famous Chattanooga Choo-Choo, Rock City Gardens, Ruby Falls, The Incline, Warehouse Row Shopping, Nature Center, Cloudland Canyon, Pointe Park, Signal Point, Rainbow Lake, dirt bike riding, Chickamauga Lake and Dam, Chickamauga Battlefield and History Museum, Rafting on the Ocoee, hang gliding, and caving. We couldn't show all the hundreds of places.
A tranquil spot, with so much so close around to do.
Link to a film about Chattanooga http://www.outdoorchattanooga.com/atomic_films.wmv